Industries
---
Processing Aids for Coatings, Paints and Inks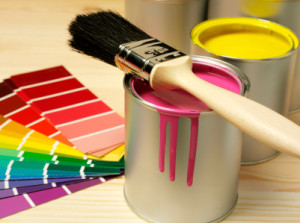 Synmac provides a broad range of processing aids for coatings, paints and inks. Our laboratory can evaluate additives in your systems and recommend the best-performing and most cost-effective solution for your application. Our products include 100% active polymeric-, silicone- and mineral-oil-based defoamers as well as silicone and organo-silicone emulsions.
Biocides have been used in paints and coatings as preservatives. Biocide additives have been designed to keep bacteria from spoiling paint during storage, or to keep fungi, algae, moss or lichen from growing on and under the applied paint. Other coatings, adhesives and sealants may also contain biocides.
Insufficient preservation of paints and surface coatings can lead to contamination, microbial growth, paint deterioration and adverse effects. The addition of biocides as in-can preservatives can help to protect against these negative performance characteristics.
Biocidal systems are designed for the specific use of the paint, adhesive or coating. When applied to a surface, the biocide-paint controls the formation of biofilm on the surface; paint thus inhibiting initial attachment of a variety of microbial species and higher organisms.
| Function(s) | Products | Application(s) |
| --- | --- | --- |
| In-can Preservatives | SEPTAL | This family integrates biocides for microbial control growth in aqueous products in wet state and during the in-can phase. |
| Dry-film Preservatives | AVICIDE | Biocides to control growth of fungus and algae on dry state products. |
| Thickening Agents | SYNPOL | Mainly used as pigment and filler dispersing agent for paints in aqueous medium. |
| Defoamers | AVIFOAM | This family of additives to control foam and release air bubbles during production and application of aqueous technical products such as emulsions, paints, coatings, adhesives and inks. |
| Sainitizers | SEPTAL | AVICIDE® family incorporates biocides for quick disinfection of contaminated products and industrial facilities. |
| Wetting Agents | SYNSURF A90, A92, NI54, NI95 | SYNSURF® family of additives formulated to reduce the surface tension in waterborne paints, coatings and adhesives. |
| Paint Dryers | ANSYN L55, L60 | Inhibits silica polymerization and disperses particulates |